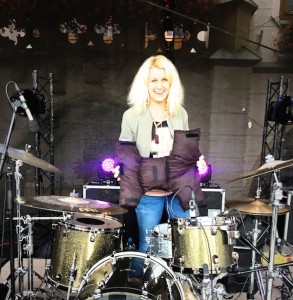 Veronika Lukešová is young artist coming from Czech Republic. She plays mostly drums but also other instruments, composes, produces her own music, writes lyrics.
As she says: "In the beginning there was a light,…,sport (mainly football and tennis), music (piano, singing) and because I´m quite dynamic person so last biggest specific choice: DRUMS – for me drums are connection of Art + Sport, that´s the reason why I love it till this days!". She began playing the drums at 13 and from this time she played and did some headbang in many groups and projects (rock, metal, pop, jazz, classic).
Veronika lernt at ZUS Trinec, Janackova´s conservatory in Ostrava, Conservatory of Jaroslav Jezek Prague.
Experience, bands, artists, projects:
RMC (Rock Meets Classic) – Bohemian Symphony ochestra Prague
2012 – Ian Gillan (Deep Purple), Steave Lukather (ToTo), Jim Jamison (Survivor), Robin Back, Chris Thompson (Mannfred Mann´s Earth Band)
2013 – Paul Rodgers (Free Bad Company), Bonnie Tyler, Eric Bazilian (The Hooters), Steve Augeri (Journey), Chris Thompson
2014 – Alice Cooper (ft. Orianthi), Mick Box and Bernie Shaw (Uriah Heep), Joe Lynn Turner (Rainbow), Midge Ure (Ultravox), Kim Wilde
2015 – Ian Gillan (Deep Purple), Rick Parfitt (Status Quo), Eric Martin (Mr. Big), John Wetto (Asia)n, Marc Storace, Giana Nanini
Mat Sinner Band
2016 – Joey Tempest (Europe), Steve Walsh (Kansas), Midge Ure (Ultravox), Scott Gorham & Ricky Warwick – (Thin Lizzy), Andy Scott & Pete Lincoln (The Sweet), Dan Mcaffertty (Nazareth), Doro
Kiske/Somerville, Doctor Victor, Olga Lounova, Gabriela Guncikova,…
Video spot for UK tv Chanel 5.. . . .
Veronika is GK Music endorser since 2017.
more: www.veronikalukesova.com